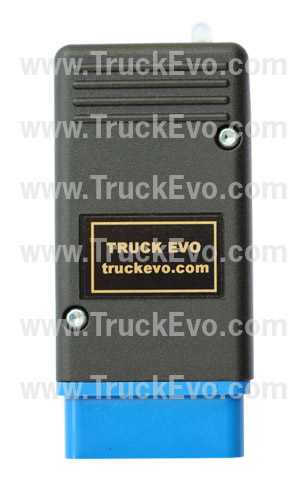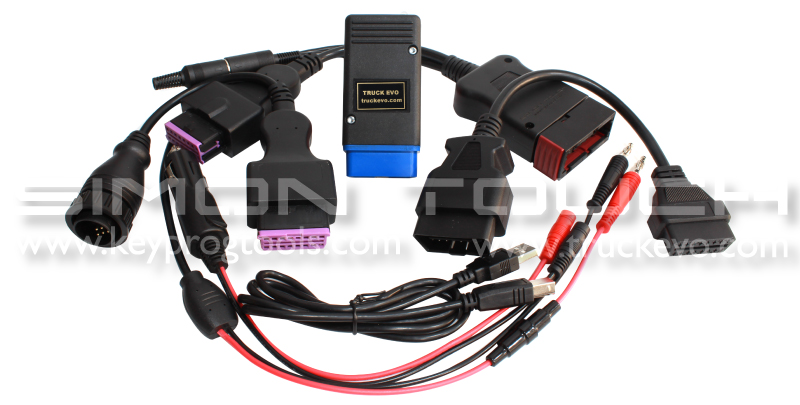 Short description:
Read/Write MB PLD(MR) Flash, EEPROMs by OBD2 or Direct Connect cable.
MB Learn key by OBD2 or Direct Connect cable
Immobilizer ON/OFF for MB by OBD2 or Direct Connect cable
Calculate VEDOC, FDOK codes, DAS password for MB by OBD
Direct Connect cable
Read/Erase fault codes
Full Fault errors report
Speed limit. Applicable for CPC drive control modules
NOx torque limit. FR and CPC (only MP3)
Erase exhaust faults (AdBlue system fault source repair must be done firstly)
Includes hardware: VEI device, DirectConnect cable, MCM adapter, MAN and MB adapters, FR and FFR adapters, USB cable.
Includes licenses: MB MEMO, MB KEYS, MAN KEYS, MB CALC, 2011+, 3CORE, CRV, CR, FR, DC, DIAG, EXTRA.
Truck Evo available in several languages:
English
Dutch
French
Spanish
Portuguese
Russian
Lithuanian
Arabic
Persian
Support and updates for 12 months is included.
***
Full description:
1. License MB MEMO
Program module for Read & Write FLASH & EEPROMs of engine control module PLD/MR based on microprocessor C167 without internal flash. This function allows make clone of MR memory. Your read one MR, save to *.bin file (RAW format and not crypted, scrambled) , and write it to another MR memory. Software module (MB MEMO) is especially useful for chip-tuning work and recovering unit after broken update.
Function available thru OBD connection (MR is mounted inside truck what have known gateway FR/CPC / ADM / VCU / GM / INS) or direct connection with Direct Connect cable (MR connected on the table, external power supply required). OBD connection support firmware access mode only. Direct Connect connection type support firmware and BSL (Boot Strap Loader) mode. For some PLD BSL mode require PLD cover disassembling.
Software module include automatic cheksum (main aplic. and fuel map) recalculation
2. License 2011+
For PLD memory read and write operation (category memo) PLD with XC2287 secured microprocessor.
Open access Read & Write memory for PLD, made on 2011 and later, with microprocessor Infineon XC2287.
Software module support PLD with firmware versions: 22B, 23E, 24B.
Doesn't support PLD what have firmware versions: 21x, 23F, 24C, 25x, 26x these version covered by additional license.
Will be soon as License 2014+.
3. License MB KEYS
Key transponder programming module allow program up to 8 keys for Mercedes trucks, engine and drive control units.
Allows adding new keys for the Mercedes truck over OBD or DirectConnect cable. Operations can be do offline, only connection to the vehicle or ECU (PLD/MR) required. DirectConnect cable give possibility to check vehicle WSP module and transponder key functionality.
It is possible to make up to 8 new keys without present key. Erase all programmed keys. Switch immobilizer system off (IMMO OFF) (required for vehicles with immobilizer faults). Or enable truck immobilizer system.
Models: All models equipped PLD (MR) & FR/CPC & WSP modules
Years: 1998- 2014
4. License MAN KEYS
Allows program transponder key to MAN truck and buses immobilizer memory.
Allows add up to 8 new keys, without MASTER KEY, for the MAN truck over OBD connection or thru DirectConnect cable. Additional test for truck key transponder and transponder RF key coil (transponder reader) are available by Direct Connect cable.
Key transponder programing can be done offline for MAN truck equipped FFR or PTM.
Years: 2000 - 2014
5. License MAN FFR
Program module for Read & Write FLASH & EEPROMs (C167 and ST10Fxx microprocessors) of drive control modules FFR (MAN). Operations available over OBD connection or via DirectConnect cable.
6. License FR.
Supported FMR; FR; FR/CPC; CPC1EU; CPC2EU.
Read/write FR.
Immo off in FR and MR.
Not supported: CPC2 NAFTA; CPC2+ NAFTA; CPC4 NAFTA; CPC3; ADM2; ADM3
7. License MB CALC
MB VeDoc and FDOK calculators - calculates access codes for VeDoc (X1, X2, X8.) and FDOK ( XT / XN ) algorithms.
Must be used together with XENTRY (DAS) software and compatible diagnostic tool where these codes are asked. All operations are done offline, only connection to the truck required for VEDOC.
For FDOK calculations not needed connection to the truck. FDOK code for new and old DAS.
DAS password generator - calculates password asked by DAS to access some special functions (MR downgrade from Euro 4, 5 to Euro 3 etc.)
8. License 3CORE
Read & Write full access for MCM and ACM control units memory over DirectConnect cable.
Type 1. Continental MCM1 (MCU TC1796-256F / TriCore 1 EEPROM M95128).
Type 2. Continental MCM2 (MCU TC1796-256F / TriCore 1 EEPROM M95640).
Type 3. Continental MCM2 (MCU TC1796-256F / TriCore 1 EEPROM M95640).
9. DirectConnect cable and license
DirectConnect cable to connect VEI directly to module.
This sub license cover different functions what work pass thru Direct Connect cable. Such memory operations, key programming, diagnostic for electronics control units such MR/PLD; FR; CPC; FMR; FFR; PTM; EDC; ECM, MCM/ACM.
10. License MB DIAG
It able to Read DTC with error description. Clear DTC.
Read and Erase fault codes.
VANs on this moment not supported.
12. License MB Extra
Speed limit. aplicable for CPC drive control modules
NOx torque limit. FR and CPC
Erase exhaust faults (AdeBlue system fault source repair must be done firstly)
Supported Models
Supported Trucks, Buses
Soon

Mercedes
MAN
MAZ
CLAAS
UNIMOG

SCANIA
VOLVO
as additional license
Mercedes:
All models.
MAN:
All models.
CLAAS:
Combine CLAAS LEXION 420 (1997-2001)
Combine CLAAS LEXION 430 (1997-2001)
Combine CLAAS LEXION 450 (1997-2001)
Combine CLAAS LEXION 460 (1997-2001)
Combine CLAAS LEXION 480 (1996-2001)
Combine CLAAS LEXION 580 (2005-)
Combine CLAAS LEXION 600 (2005-2010)
Combine CLAAS LEXION 740 (2010-)
Combine CLAAS LEXION 750 (2010-)

Combine CLAAS TUCANO 320 (2007-)
Combine CLAAS TUCANO 330 (2007-)
Combine CLAAS TUCANO 340 (2007-)
Combine CLAAS TUCANO 430 (2007-)
Combine CLAAS TUCANO 440 (2007-)
Combine CLAAS TUCANO 450 (2007-)
Combine CLAAS TUCANO 470 (2009-)

Combine CLAAS MEDION 310 (2000-)
Combine CLAAS MEDION 320 (2000-)
Combine CLAAS MEDION 330 (2001-)
Combine CLAAS MEDION 340 (2000-)

Combine CLAAS MEGA 330 (2003-2009)
Combine CLAAS MEGA 350 (2003-2009)
Combine CLAAS MEGA 370 (2005-2009)